Topsfield Fair weigh-off had three Vermont giant growers place in the top 25. Congrats to Wilbur Horton who's personal best 1237.2 lb took seventh place, Mark Breznick took 10th with a 1170.4 pounder and John Young took 25th with a 21% heavy 700 pounder.
John and Andrew also bettered their state record long gourd with 110", but next up was Dan and Holly Boyce with their new Vermont State record long gourd of 115.88" which took fourth place over all.
Wilbur Horton also took second place in the squash category with a 666.8 pounder.
New Vermont State Record Long Gourd
Holly Boyce with their 115.99" giant.
VGVGA Long Gourd growers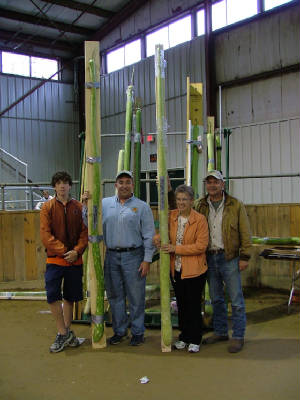 The Youngs and the Boyces