VGVGA member group photo 2008.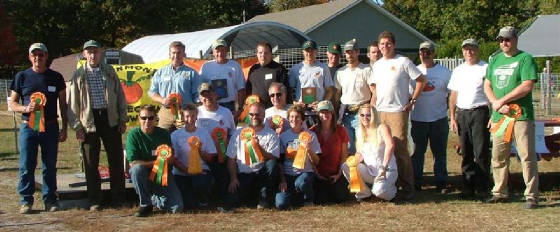 Sam Mazza's Farmstand - VGVGA weigh off 10/11/2008
2008 was a great year of growing for Mark Breznick and Kevin Companion. Mark set the new Vermont State record on Oct 4th at the Topsfield Fair in Mass. 30 minutes later Kevin bettered the "mark" with a 1311 giant. One week later at Sam Mazza's Farmstand on October 11th Mark's biggest pumpkin topped the scale at 1392 pounds! Setting a another State record which will be hard to beat. (But I'm sure someone will). Awesome pumpkins, nice going guys!
Mark Breznick's new VT state record 1392 lb!
Also won the best looking pumpkin award
Also congratulations to Kevin Companion, his 1311 pound giant took third place at Topsfield, MA (Oct. 4th), great job. It was a new Vermont state record for one week. Mark Breznick took fourth place with a 1289 pounder and Wilbur Horton took 26th with a 990 pounder. Nice showing VGVGA!
Kevin Companions' 1311 pounder at Topsfield, MA.
Third place finisher and new VT record (for one week).
Another congratulations to Mark Breznick who took first place at Norwalk, CT on September 29th with an 1166 pound pumpkin. Check out Mark's trio in the photo below. Congrats Mark, what a great year!
Breznick's Trio of Giants!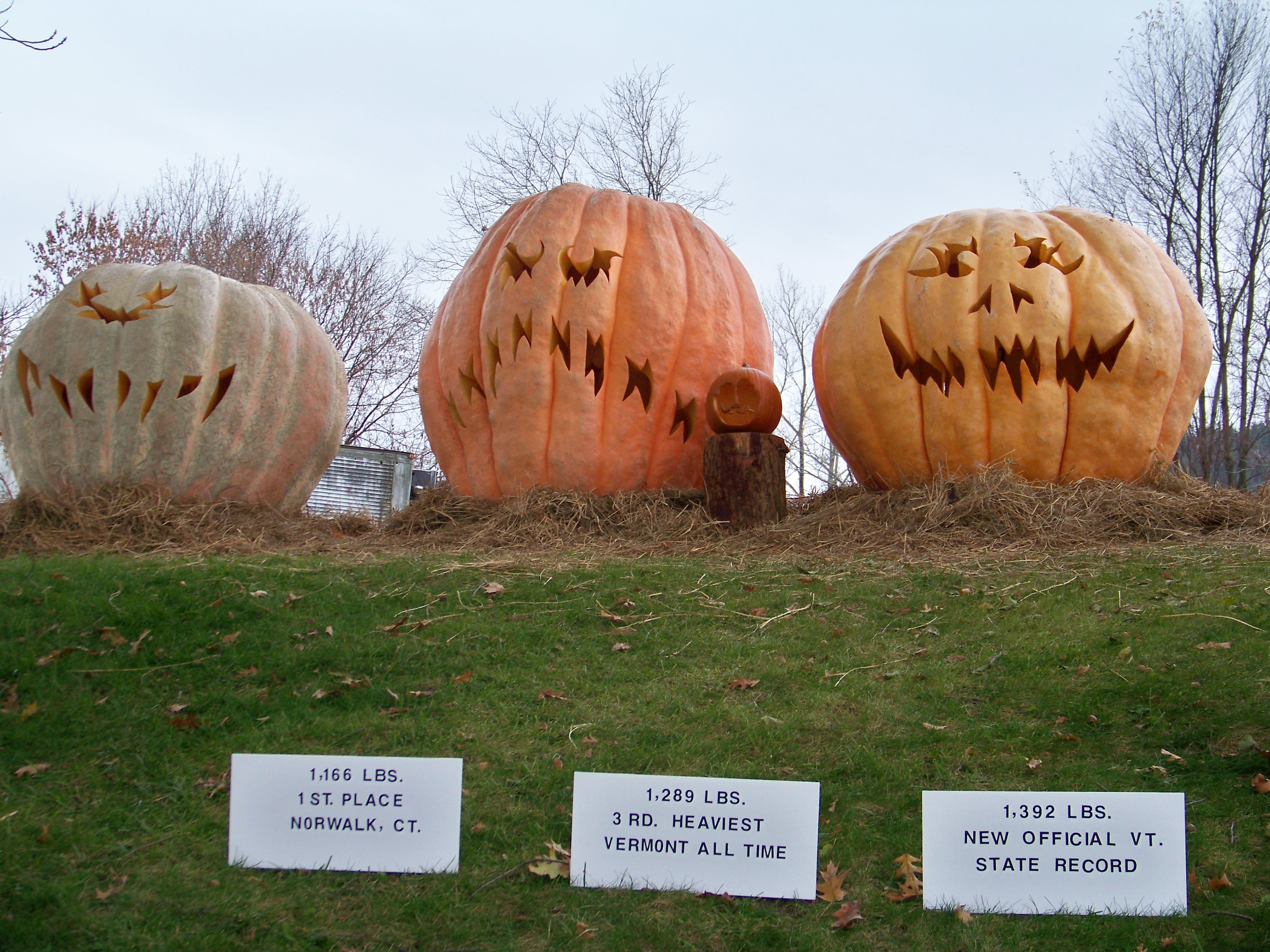 Carved by Mark and Sharon
VGVGA annual weighoff (October 11th, 2008) - great weekend and great weather at Sam Mazza's Farmstand in Colchester, VT. We had 16 growers weighing pumpkins and squash. For results use the following link:
Photos from event with results.
Lake Champlain Regional Chamber of Commerce and VGVGA Regatta (October 12th, 2008) - hoping this will become an annual event, what a blast! We helped to raise over $1000 for United Way and over 600 pounds of food was donated to the Chittenden Emergency Food Shelf. Not to mention a good time had by all, estimated over 500 spectators and lots of press (we made quite a splash). Check out these news articles:
MSNBC video from the Today show
WCAX Channel 3 News ("Pumpkins Ahoy")
More about the Regatta from the Chamber of Commerce.
Photos from the 2008 Champlain Valley Fair.
The 2008 VGVGA BBQ and patch tours were held on Saturday August 9th at Dan and Holly Boyce's in Orwell, VT. It was a great time to meet and visit with other grows, eat some good food and pick up some growing tips. AND we had a beautiful day with no RAIN. Thanks to Dan and Holly for hosting. Also thanks to Huey and Wendy Cadieux for letting us tour their patch in East Poultney, VT.