2010 was a great year to grow nearly anything, especially giant pumpkins. Our club had a lot of personal bests grown, Kevin Companion (1378), Daniel Boyce (1254), Wilbur Horton (1237), Terry Keim (1158), Randy Stromback (965), Dale Duffy (914), Donna Parker (762), Harold Young (756), Dick Squires (692), Steve Minor (581), Craig Stromback (475), Sarah Rainville (408) and Bill Erskine (368). Also Wendy Cadiuex grew a 66 lb watermelon. I'd call that a pretty good year of growing. Let's hope next year we do as well or better.
2010 VGVGA crew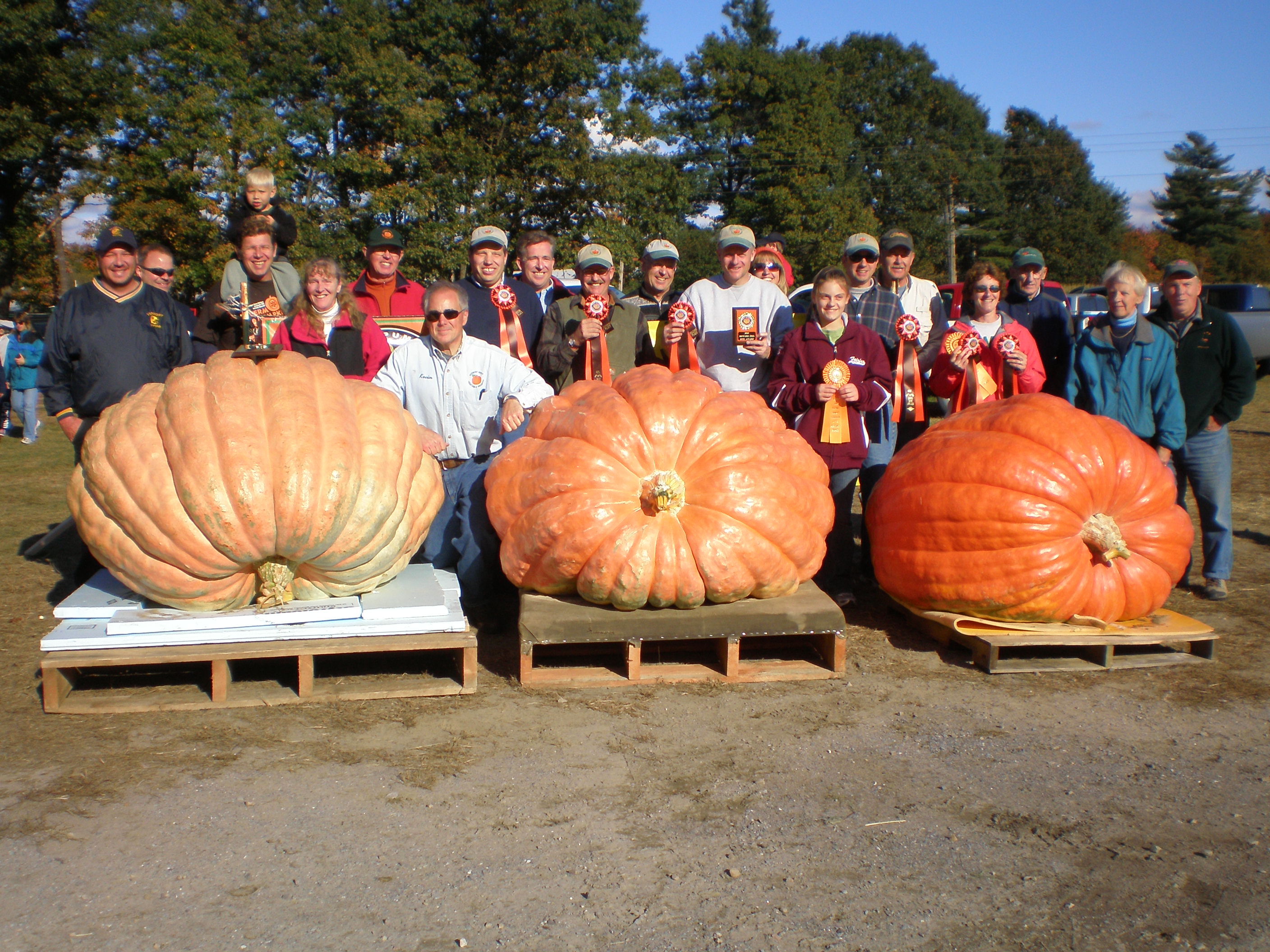 at Sam Mazza's in Colchester, 10/09/2010
YouTube video of Terry Keim's "Frequently Asked Questions on Growing Giant Pumpkins"
YouTube video of Terry Keim's presentation of "Chronology of a 1000+ Pumpkin"
YouTube video of presentation by Terry Keim of "Giant Pumpkin Carvings".
How to end your season, Colorado style.
How to end your season, Vermont style.
Video of Chris Steven's new world record.
VGVGA State Weigh-off at Sam Mazza's Farmstand in Colchester, VT - October 9th, 2010
Results from VGVGA weigh-off at Sam Mazza's.
Photo album from VGVGA weigh-off.
Third Annual Giant Pumpkin Regatta - Burlington Waterfront - October 10th, 2010. Had over 7,000 spectators and raised over $23,000 for Linking Learning to Life. What a beautiful fall day!
Photo album of 3rd Annual Giant Pumpkin Regatta.
Burlington Free Press article.
WCAX - Channel 3 Regatta coverage.
Topsfield Fair - Topsfield, MA - October 1, 2010.
VGVGA members place 5th, 10th and 16th amongst 54 pumpkins.
The BigE - Eastern States Exposition - West Springfield, MA - September 24th, 2010.
Dan Boyce was the repeat winner and set a new record with a 1254 pounder.
Vermont State Fair, Rutland, VT - September 7th, 2010.
Dan Boyce set a new fair record with a 1024 pounder.
Article and video (on right side) from Rutland Herald.
Champlain Valley Fair, Essex Junction, VT - August 27th, 2010
New fair record of 1246.5 lbs set by Kevin Companion of Huntington, VT.
Seven days article after the CV Fair.
The 2010 BBQ and patch tour took place Saturday, August 14th. We toured Harold Young's, Kevin Companion's and Terry Keim's patches before heading to Ann & Dick Squires place to tour their great place/patch and enjoy the BBQ. Thanks Ann and Dick for hosting.
Photos from the BBQ and Patch Tour.
2009-10 Winter Meeting held 2/13/10
On-line Silent Seed Auction (January 2 -10) raised $3050 for the club, more than any other previous year. Thanks to John Young for organizing and all the growers who donated seeds.
Link to 2010 on-line seed auction results.