2012 produced the first one ton pumpkin: 2009 lbs!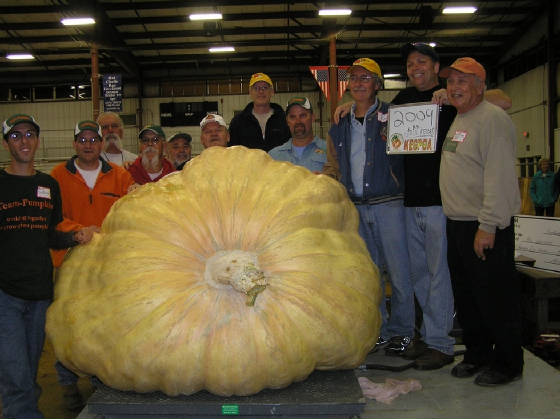 Grown by Ron Wallace from Greene, RI
2012 was a great season, personal best for many growers including Kevin Companion 1556.5 lbs (new VT state record), Pete Sweet 1509.5 (1st Place at Cooperstown), Wilbur Horton 1386 lbs, Laural Keys 1330.5 lbs, Mike Cole 1015.5 lbs, Dick Squires 827.5 lbs, Wendy Patterson 754.5 lbs, Mike Strange 580.5 lbs and new growers Brent Towne 594.5 lbs, Zoey Cole 428 lbs, Bunny Huntley and Milly Rhodes 353 lbs and Carly and Chloe Bennett 284.5. It was a great growing year, let's hope next summer is as nice!
Annual On-Line Seed Auction,
held January 7 - 15 th, 2012.
Our recent On-line seed auction was a huge success! Thanks to all the growers who donated seeds and all the bidders who participated. We are in the process of wrapping up and sending out seeds. Our little club is sending seeds all over the world! Check out the link below which shows a world wide map of all the locations of all the auction winners from this year and last year.
Results from 2012 On-line seed auction.
Google map of auction winners.
Annual Winter Meeting held in Berlin, VT at the Comfort Inn on Saturday January 28th, 2012
Click here to download pdf of the Minutes from Winter Meeting.
Photos from 2012 Winter Meeting.
Annual Fall Events:
Photos from Vermont Fair weigh-offs.
VGPGA weigh-off results for pumpkins.
2012 VGPGA crew
at Sam Mazza's in Colchester, 10/06/2012
10/6/12 - Kevin Companion from Huntington, VT
First place at VGPGA and a NEW VT RECORD - 1556.5 lbs!
9/28/12 - John and Kerry Young from Jericho, VT
First place Long Gourd at Topsfield Fair weigh-off and NEW VT STATE RECORD - 129 1/8
10/6/12 - Kevin Companion from Huntington, VT
First place at VGPGA weigh-off - 98 pound field pumpkin.